Cryptomonnaies & Bitcoin : comprendre, acheter et vendre !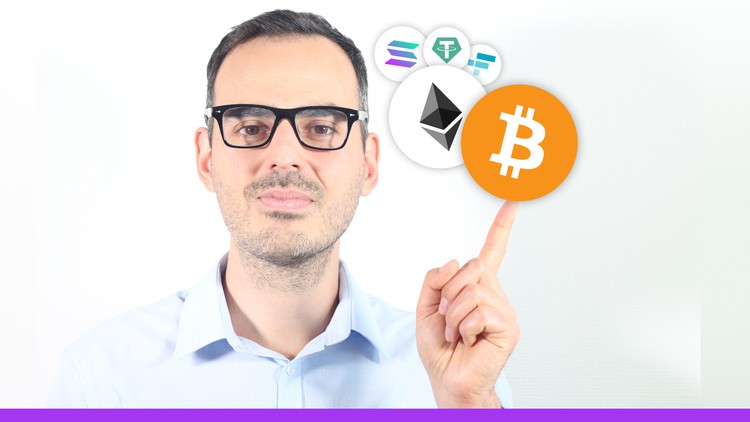 C'est LE sujet du moment et LA techno qui va révolutionner votre porte-monnaie ! Le Bitcoin est la première cryptomonnaie d'une longue série qui a réussi le pari de créer une "monnaie" virtuelle qui n'est dirigée par personne : transaction en direct, peu importe où que vous soyez dans le monde.
Ce cours est le plus complet de Udemy France (+6h) : il va vous donner les moyens et la méthodologie pour comprendre comment fonctionnent les cryptomonnaies, acheter des Bitcoins et toutes les autres disponibles sur le marché, trader, vendre et sécuriser vos actifs.
✓ Cours toujours à jours : bénéficiez régulièrement de nouvelles vidéos
Découvrez et apprenez les cryptomonnaies avec un formateur reconnu dans ce domaine
✓ Qui maîtrise le sujet depuis le début des cryptomonnaies (2009)
✓ Qui investit activement
✓ Qui participe à la blockchain !
Ce cours va vous permettre de :
Comprendre la blockchain et découvrir les cryptomonnaies

Connaître les différences et les spécificités de chacune avant d'acheter

Acheter des cryptomonnaies avec votre carte bancaire / par virement sur des sites sûrs

Découvrir les outils de trading

Appréhender les différentes places de marché (Coinbase, FTX, Binance)

Choisir sa technique d'investissement

Connaître les plateformes d'achat de cryptomonnaies secondaires

Sécuriser vos cryptomonnaies sur votre ordinateur ou clé USB

Être conscient des responsabilités et des impôts
Ce cours vous donnera toutes les clés pour investir sereinement et pouvoir prendre la parole sur ce sujet.
You can view and review the lecture materials indefinitely, like an on-demand channel.
Definitely! If you have an internet connection, courses on Udemy are available on any device at any time. If you don't have an internet connection, some instructors also let their students download course lectures. That's up to the instructor though, so make sure you get on their good side!
Be the first to add a review.
Please,
login
to leave a review
Cryptomonnaies & Bitcoin : comprendre, acheter et vendre !