Devenez un pro d'Excel : Bases de Données & Tableaux Croisés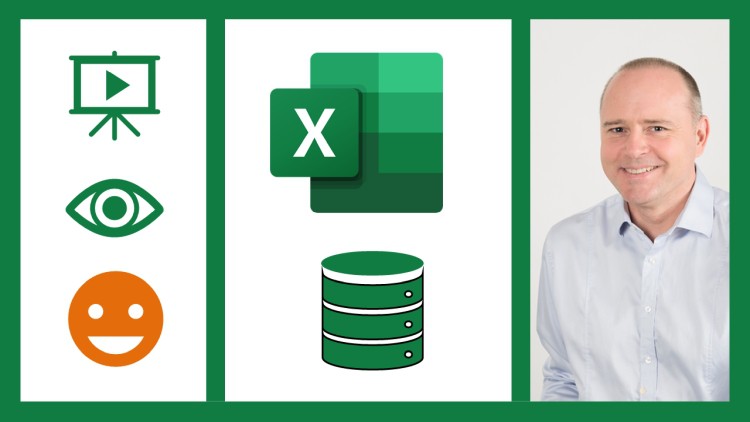 Je mets à votre disposition mon expertise, mon expérience et mes trucs et astuces pour aider à maîtriser parfaitement les Bases de Données et les Tableaux Croisés Dynamiques, que certains habitués appellent les "TCD"' !.
Cette formation, fruit de 10 ans de travail et d'améliorations continues, va vous permettre de trier et filtrer vos Bases de Données, faire des sous-totaux, des menus déroulants personnalisés, de piloter votre activité avec des Tableaux croisés lisibles et vivants. Avec les nombreux exercices proposés et progressifs, vous aller rapidement apprendre les bons réflexes de travail.
Dans cette formation, 4 h de vidéos vous attendent, découpées en plus de 44 tutoriels, et autant d'exercices d'applications qui vous permettront d'appliquer immédiatement.
Un support de cours récapitulatif en PDF est fourni, avec sommaire cliquable, ainsi que 30 questions de Quiz pour tester vos connaissances, et en bonus, une liste des meilleurs raccourcis vraiment utiles pour produire mieux et plus vite.
Toutes les connaissances seront directement applicables dans votre contexte professionnel. Tous les exercices sont issus du monde du travail ou de cas concrets.
Et grâce à la flexibilité de la formation, vous pourrez progresser pas à pas, à votre rythme, tout en restant maître de votre emploi du temps, où que vous soyez.
You can view and review the lecture materials indefinitely, like an on-demand channel.
Definitely! If you have an internet connection, courses on Udemy are available on any device at any time. If you don't have an internet connection, some instructors also let their students download course lectures. That's up to the instructor though, so make sure you get on their good side!
Be the first to add a review.
Please,
login
to leave a review
Devenez un pro d'Excel : Bases de Données & Tableaux Croisés