Etap Pou Pwodiksyon Yon Kou An Liy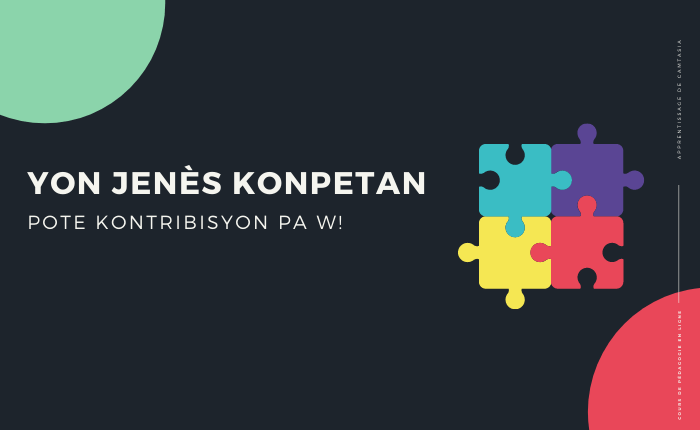 Description
Sosyete a kapab kontiye benefisye de konpetans ou menm aprè ou fin mouri. Se yon nouvo avantaj ke Internet ofri nou jodi a ke nou pa dwe pase a kote l.
Si w gade byen mèt Dorval ak anpil lòt moun ale ak konpetans yo. Rita mouri ak resèt bouyon l lan. Anpil lòt moun ap prale san yo pa kontinye egzsite.
Oumenm ou gen chans sa a, nan moman w ap li tèks sa a: Ou gen chwa ant kenbe konpetans ou pou ou, oubyen pran yon 1 mwa, 3 mwa, 6 mwa bati yon kou avè l, pou w mete Online.
Ou kapab vann li, ou kapab mete l gratis e fè peye w pou coaching a distans. Se sa mwen fè nan kou sa a.
Kou a gratis, men si pou m akonpaye w pandan 1 mwa, 2 mwa, 6 mwa, ou dwe peye yon frè. W ap sèlman voye kalandriye travay ou a ban mwen nan soiredelux@hotmail.com epi n ap wè konbyen sa ka koute w.
Pa bliye, m ap kapab fè w jwenn lojisyèl la tou gratis. M ap kapab ede w mete l Online sou lòt platfòm si w pa ta vle mete li sou RetBranche.
Mwen fè sa paske mwen reve ke gen yon espas kote Ayisyen k ap viv a letranje tou kòm Ayisyen k ap viv Ayiti kapab "EMPOWER" jenès nou an kèlkeswa kote yo ye sou latè.
Mwen gen yon objektif akonpaye 1 000 moun pou kreye epi mete kou yo an liy pandan 10 an. Enskri nan kou sa a pou w kapab 1 nan yo. Lage kò w nan pisin nan, gen moun ki pou ede w aprann naje!
What to learn?
1-Rive mete youn nan konpetans ou genyen yo an liy o sèvis kominote a 2-Anseye kounye a kèlkeswa kote w ye 3-Pwodui videyo pedagojik pou tout platfòm
Requirements
1-Telefòn entèlijan
2-Òdinatè
3-Mikwo
4-Trepye pou telefòn
3-Lanp de tab
4-Tab
5-Epas pou w pwodui videyo yo
Avangou Kou a
3
Lojisyèl N ap Itilize nan Kou a
4
Pedagoji N ap Itilize nan Kou a
5
Avantaj Ki Genyen nan Mete yon Kou Online
6
Eske Ou Ka Fè Kòb Ak yon Kou An Liy
A. Prepare Plan Kou A
1
A0. Defini Kritè Evaliyasyon Kalite Travay Etidyan an
2
A1. Itilizasyon Word ak PowerPoint Pou Prepare Kou A
3
A2. Nosyon de Baz Sou Pedagoji Apwòch Pa Konpetans (APC)
4
A2.1 Kreye Dosye Pou Chak Leson
B. Defini Prereki Ak Materyèl Nesesè
2
B3. Idantifye Sit Kote W Ap Jwenn Videyo, Imaj, Mizik San Dwa Dotè
3
B4. Itilize Telefòn Ou Pou w Skàne E fè Videyo Ki Bon
4
B5. Chèche Tèks Sou Bon Sit Ak Liv Sou Google
5
B6. Oryante Etidyan an Sou Kote L Ap Jwenn Zouti Nesesè Pou Devlope Konpetans Lan
C. Chwazi Lojisyèl La
1
C7. Idantifye Lojisyèl Ki Pi Senp Yo Pou Pwodiksyon Pedagojik
3
C9. Konprann Lojik Montaj Videyo a
D. Fè Montaj Videyo Pedagojik
1
D10. Deside Yon Nòm Pedagojik
2
D11. Òganize Espas Pou Pwodui a (selon mwayen w)
3
D12. Prepare Kèk Materyèl
5
D14. Upload Kontni Leson an
6
D.15 Depoze Kontni Yo Sou Pis Yo (Timeline)
7
D16. Ensere/Koupe/Siprime Pati Ki Pa Bon
8
D17. Pwodui/Chèche Lòt Materyèl Pandan W ap Fè Yon Videyo
9
D18. Siprime Lapsus, Ajoute Komantè An Dirèk
10
D19. Anote/Ekri nan yon Videyo
11
D20. Ajoute Endis Pou Atire Atansyon: Zoom In, Zoom Out…
12
D21. Effet Curseur, Pwojektè, Fòm, Touch Klavye…
13
D22. Ajoute/Diminye Vitès
14
D23. Chwazi Fòma Pou W Ekspòte Videyo
15
D24. "Mise En Ligne" et Envoi Sur WhatsApp
E. Mete Kou A Online
1
E25. Idantifye Platfòm Ki Pèmèt Ou Vann Kou Online
2
E26. Mete Yon Pri Sou Yon Kou
3
D27. Suiv Pwosesis Pou W Mete Yon Kou Online
4
E28. Aji Pou W Vann Yon Kou Online
test
Be the first to add a review.
Please,
login
to leave a review
Etap Pou Pwodiksyon Yon Kou An Liy