Adobe Premiere Pro CC | Initiation | Outils + Ateliers créas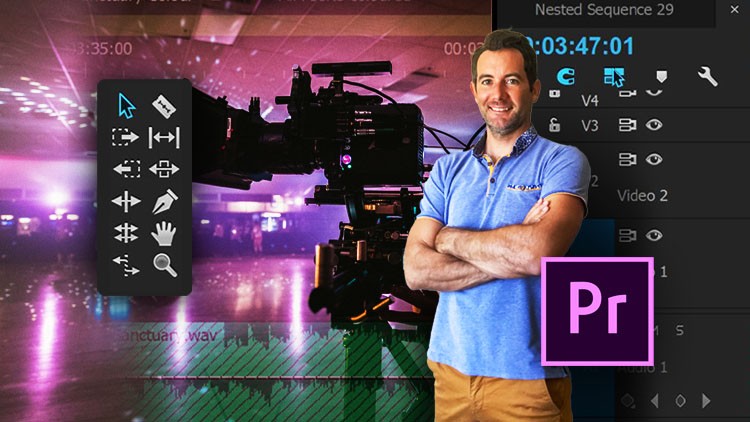 Commencez votre carrière de monteur vidéo avec Premiere Pro CC et créez des productions professionnelles pour le cinéma, la télévision et le Web.
Si vous recherchez une application de montage vidéo vous permettant d'éditer les vidéos comme vous le souhaitez, Adobe Premiere Pro est la meilleure solution. Premiere Pro est utilisé par les professionnels du monde entier pour tous les types de production, des vidéos commerciales et marketing aux vidéos musicales en passant par les documentaires, les longs métrages. Ce cours complet est le meilleur moyen d'intervenir et de commencer à éditer.
Faites des vidéos comme vous les imaginez!
Pratiquez le montage pendant que vous apprenez. Ce cours comprend des fichiers vidéo d'entraînement pour vous permettre de suivre et d' apprendre par la pratique.
Qu'est-ce qui me rend qualifié pour vous apprendre ce logiciel?
Je m'appelle Romain et je suis designer Graphique depuis plus de 10 ans, j'ai entre autre enseigné dans des Ecoles de création graphique, Ecoles de Marketing et au sein de centre de Formation.
J'enseigne également en ligne depuis plusieurs années avec des milliers d'étudiants satisfaits qui ont notés mes cours parmi les meilleurs d'UDEMY
Ce que je vais faire pour vous
Je suis designer et enseignant en ligne à temps plein. Je serai là pour vous à chaque étape. Si vous avez des questions sur le contenu du cours ou sur tout autre sujet lié à ce sujet, vous pouvez toujours poster une question dans le cours ou m'envoyer un message direct.
Je suis disponible et réactif pour vous orienter et résoudre vos interrogations tout au long des formations
Qu'est-ce que ce cours Adobe Premiere Pro?
Dans ce guide complet du cours de montage vidéo Adobe Premiere Pro, vous apprendrez non seulement tous les outils de montage disponibles dans Premiere Pro, mais également les techniques de montage dans l'esprit d'un éditeur professionnel.
Nous allons également mettre en pratique tous ces outils par le biais d'atelier thématique et créatifs.
Ce cours couvrira tout ce que vous devez savoir pour commencer le montage vidéo, notamment:
Commencer un projet
Montage de vos vidéos
Ajout de transitions vidéo et audio
Ajout de titres professionnels et modernes (même certains avec mouvement)
Améliorer l'audio
Corriger et niveler la couleur de votre vidéo pour lui donner un bon style
Ajouter des effets visuels à vos projets
Montage de séquences sur écran vert (incrustation couleur)
Conseils d'efficacité avancés
Ateliers théamtique pour comprendre tous les outils appris au cours de la formation
Apprenez auprès de moi qui travaille depuis de nombreuses années sur les créations graphique, je travaille avec les plus grande marque et suis issu d'une formation artistique de 3 ans aux beaux Arts et d'un Master à l'école polytechnique de Milan.
À la fin de ce cours, votre confiance en tant qu'éditeur de vidéo augmentera. Vous comprendrez parfaitement comment utiliser Adobe Premiere Pro pour le plaisir ou en tant qu'opportunité de carrière.
Allez-y et cliquez sur le bouton d'inscription, et nous pourrons enfin collaborer sur vos projets… j'ai hate…
Cordialement,
Romain, votre formateur
You can view and review the lecture materials indefinitely, like an on-demand channel.
Definitely! If you have an internet connection, courses on Udemy are available on any device at any time. If you don't have an internet connection, some instructors also let their students download course lectures. That's up to the instructor though, so make sure you get on their good side!
Be the first to add a review.
Please,
login
to leave a review
Adobe Premiere Pro CC | Initiation | Outils + Ateliers créas