Les 11 leçons de Tony Robbins pour une vie de Succès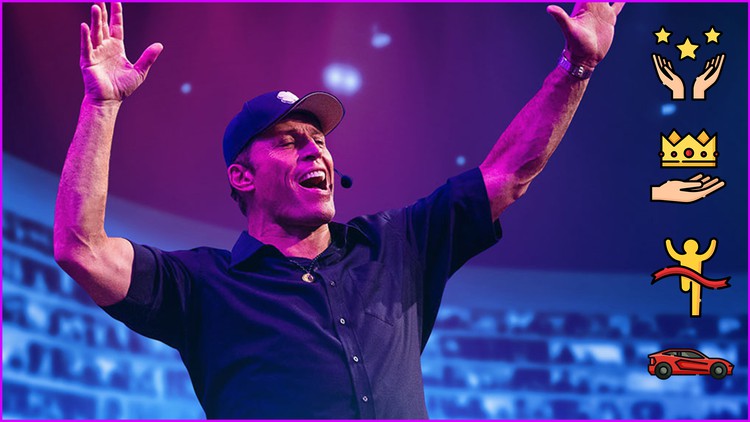 Formation qui allie la théorie des 11 principes fondamentaux du succès de Tony Robbins à la pratique avec des exercices concrets.
Au travers des onze leçons suivantes :
Vous vous sentez dépassé par les évènements… Comment renverser la situation ?
L'échec n'existe pas
Apprenez à décider et plus rien ne saura vous arrêter
Bâtir vos croyances et démarrez en trombe
C'est en vous concentrant sur vos objectifs qu'ils se matérialiseront
Les questions renferment les réponses
Découvrez vos ressources cachées
Le vocabulaire du succès
Vous trouvez-vous dans une impasse ? Sortez en grâce a de nouvelles métaphores !
Comment bâtir votre avenir en vous fixant des buts ?
Le défi mental de 10 jours
Ces 11 principes sont l'occasion de parler de notions importantes à ton développement personnel ! Comme la résignation apprise, la loi de la probabilité, l'état d'esprit, la positivité, les pensées, les peurs, la concentration, le destin, la persévérance, ton attention, les effets cumulés, l'échec et comment rebondir, le succès, les choix et décisions, les décisions, les plans d'action, l'autodiscipline, le muscle décisionnel, les croyances, les points de référence, le cahier de souvenir, l'art de se poser les bonnes questions, la routine matinale et nuptiale, les liens entre le corps et l'esprit, le sourire, le sentiment de certitude…
Une fois la formation ajoutée à ton espace membre :
Tu peux y accéder à vie
Tu peux y accéder en illimité
Tu peux télécharger les vidéos pour les voir quand tu veux
Tu peux accéder et télécharger les ressources d'apprentissage
Tu peux faire et refaire les exercices de développement proposés et les partager (si tu le veux) avec le reste des membres
Tu pourras accéder aux mises à jour prévues sans conditions
À tout de suite dans cette formation !
You can view and review the lecture materials indefinitely, like an on-demand channel.
Definitely! If you have an internet connection, courses on Udemy are available on any device at any time. If you don't have an internet connection, some instructors also let their students download course lectures. That's up to the instructor though, so make sure you get on their good side!
Be the first to add a review.
Please,
login
to leave a review
Les 11 leçons de Tony Robbins pour une vie de Succès