Piano sans solfège / Cours complet : Cours de Musique/Piano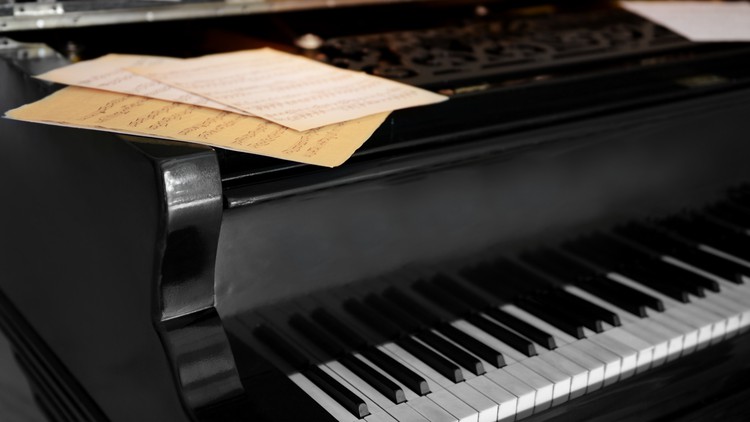 Apprendre le piano / clavier n'a jamais été aussi facile ! Et ce nouveau pack de Piano sans solfège vous permettra de le confirmer.
Après mon précédent cours de piano / clavier qui permettait à tout débutant d'avoir une idée générale des notions à aborder lorsqu'on se met au piano, voici un pack complet de piano / clavier qui vous permettra d'apprendre le piano de A à Z.
Que votre style final soit plutôt Pop, Blues, Jazz, Ragtime, Gospel, Rock, Reggae, Classique, Improvisation, le contenu prévu vous permettra d'acquérir bien plus que les bases ! Des notes aux accords, sans oublier les progressions les plus utilisés dans vos morceaux préférés, vous aurez tout ce qu'il faut pour passer d'un niveau de piano débutant à intermédiaire / avancé.
Nous verrons donc ensemble :
Comment passer d'un niveau de piano débutant à intermédiaire, grâce à :
Une structure claire et accessible de votre instrument / Piano en accords
Une revue étape par étape
Une approche détaillée
Nous travaillerons :
L'encrage : de la revue des notes au piano / clavier, à la transposition en musique
Les rythmes et styles : des styles d'enrichissement simples au piano / clavier, aux arpèges
Les progressions populaires en musique : avec des morceaux d'application étape par étape
L'harmonisation d'une mélodie : de la mélodie aux accords
À qui ce cours s'adresse-t-il ?
Débutants au piano / clavier / en musique voulant apprendre à jouer à l'oreille, des morceaux populaires
Pianistes curieux
Guitaristes
Chanteurs
Autres musiciens
Vous n'avez besoin d'aucun prérequis particulier. Votre motivation suffira largement.
Alors ?
Au plaisir de vous retrouver de l'autre côté !
Musicalement,
Jay
You can view and review the lecture materials indefinitely, like an on-demand channel.
Definitely! If you have an internet connection, courses on Udemy are available on any device at any time. If you don't have an internet connection, some instructors also let their students download course lectures. That's up to the instructor though, so make sure you get on their good side!
Be the first to add a review.
Please,
login
to leave a review
Piano sans solfège / Cours complet : Cours de Musique/Piano