ILLUSTRATOR CC | Intermédiaire | Outils + Ateliers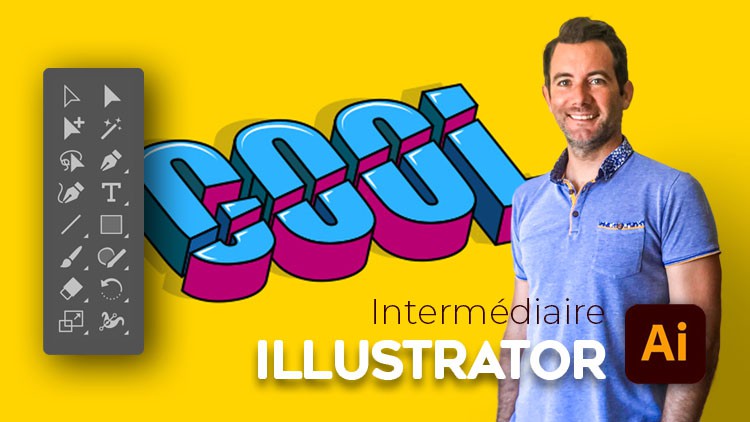 Savez-vous que vous n'utilisez que 50% des capacités d'Illustrator? Prêt à vous mettre à niveau? Ensuite, ce cours vous amènera au plus haut niveau de maîtrise d'Illustrator.
Bonjour, bienvenue dans ce didacticiel avancé d'Adobe Illustrator.
Je suis Romain Duclos, votre formateur personnel. Ce cours est un aperçu plus avancé d'Illustrator. Il n'est pas conçu pour les nouveaux utilisateurs d'Illustrator.
Ce cours est destiné aux personnes qui peuvent déjà comprendre les principes de base d'Illustrator. Si vous savez déjà ce qu'est un point d'ancrage et comment l'ajuster, ce cours est fait pour vous.
Ce cours accélérera votre productivité et votre flux de travail. Il est basé sur un projet, vous apprendrez donc les outils et astuces pour créer de très beaux styles de conception actuels.
Même si vous vous considérez comme un utilisateur expérimenté, je vous promets qu'il y aura des choses ici qui épateront votre esprit Illustrator.
Vous apprendrez des astuces avancées pour les outils , vous découvrirez des fonctionnalités méconnu d'Illustrator qui vous apporteront un gain de productivité et de créativité
Vous maîtriserez la profondeur et la perspective dans Illustrator, en créant des présentations semi-plates. Nous allons définir des valeurs par défaut permanentes pour les polices, les couleurs et apprendre à désactiver la césure une fois pour toutes. Vous apprendrez des techniques avancées de conception de logo et de conception graphique.
Nous créerons de superbes tableaux et graphiques pour vos documents indesign. Il y a une section de maîtrise des couleurs où vous apprendrez à faire des ajustements rapides des couleurs, des mailles de dégradés et comment tout mélanger.
Votre créativité sera doublée une fois que vous aurez terminé la section transformation, distorsion et fusion du cours.
Il existe une section entière consacrée à apprendre à accélérer votre flux de travail personnel et à accélérer Illustrator et à le faire fonctionner très rapidement.
Si vous êtes d'accord avec Illustrator mais que vous savez qu'il y a tellement plus à débloquer, rejoignez-moi et devenez un super-héros d'Illustrator
You can view and review the lecture materials indefinitely, like an on-demand channel.
Definitely! If you have an internet connection, courses on Udemy are available on any device at any time. If you don't have an internet connection, some instructors also let their students download course lectures. That's up to the instructor though, so make sure you get on their good side!
Be the first to add a review.
Please,
login
to leave a review
ILLUSTRATOR CC | Intermédiaire | Outils + Ateliers