Déchiffrez le bilan comptable comme un as de la comptabilité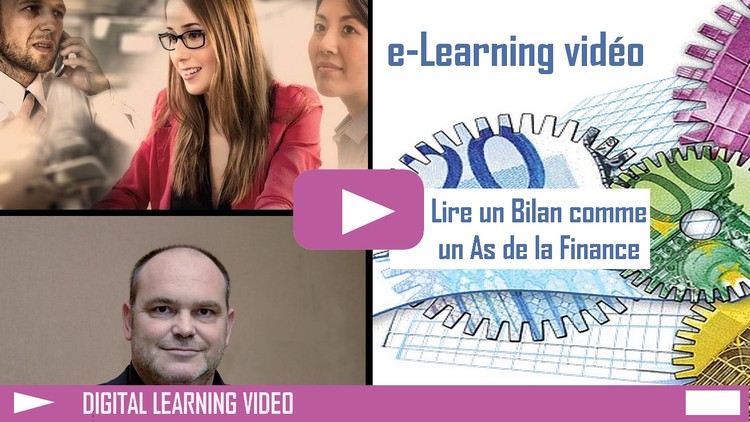 Le but de ce cours est de vous permettre de décrypter le bilan et le compte de résultat des entreprises avec le même regard que celui qu'y porte un financier de métier.
Lire un bilan et un compte de résultat est une tâche accessible pour celui qui connaît la méthode !
L'analyse financière des entreprises et la comptabilité générale sont standardisés pour permettre la comparaison des entreprises entre-elles. Ainsi, quand vous aurez appris à interpréter les états financiers d'une entreprise, (peut-être la vôtre ?), vous pourrez reproduire votre analyse critique en interprétant les synthèse de comptabilité de n'importe quelle entreprise.
Les enjeux de la lecture des états financiers sont :
faire une critique objective des risques et opportunités que présentent la situation d'une entreprise
contribuer plus efficacement aux échanges avec des professionnels tels votre banquier ou l'expert-comptable
densifier votre culture économique : le mécanisme économique dont les états financiers sont la synthèse sont universels.
Notre promesse : vous mettre à l'aise avec le jargon et démystifier les principes de comptabilité. Ceux-ci sont affaire de simple logique et donc accessibles aussi aux "non-financiers" et aux "non-comptables".
Bonus : explication de la faillite de la banque Lehman Brothers, des bulles financières et des subprime, suivi d'une vidéo explicative des enseignements à tirer de cette crise économique, afin de ne pas soi-même dépendre de fonds pourris.
Je reste à votre écoute via la messagerie instantanée du cours.
You can view and review the lecture materials indefinitely, like an on-demand channel.
Definitely! If you have an internet connection, courses on Udemy are available on any device at any time. If you don't have an internet connection, some instructors also let their students download course lectures. That's up to the instructor though, so make sure you get on their good side!
Be the first to add a review.
Please,
login
to leave a review
Déchiffrez le bilan comptable comme un as de la comptabilité