CANVA Marketing pour Réseaux Sociaux & Entreprise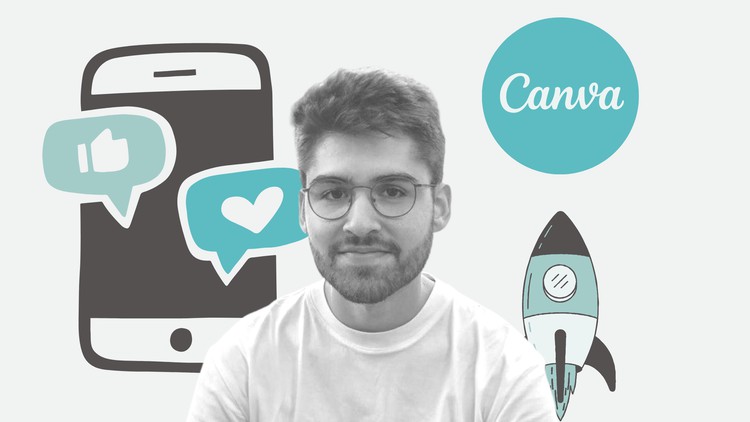 Faire de beaux visuels simplement et gratuitement
Si vous cherchez à utiliser un logiciel de dessin pour pouvoir poster sur vos réseaux sociaux, sachez que Canva est une excellente idée. C'est avant tout un logiciel extrêmement ludique et complet, qui propose une option d'utilisation gratuite.
Malgré sa simplicité d'utilisation, Canva regorge d'astuces et d'outils qui sont méconnus de (quasiment) tout le monde ! La création d'un QR code, le fait d'appliquer une palette de style de façon totalement automatisé, l'outil de planification, l'outil pour retirer l'arrière-plan d'une photo, et j'en passe. Je pourrais en citer des centaines.
Vous l'aurez compris, quand on connaît tout cela, il devient très simple de créer des visuels attrayants sans n'avoir aucune connaissance en design.
En quoi ce cours est-il rentable ?
Dans ce cours, tout est synthétisé en quelques heures de formation seulement. Vous trouverez l'essentiel de ce qu'il faut connaître pour maîtriser Canva. Pas de discours inutile, seulement un condensé du meilleur de ce que j'ai pu apprendre en suivant des dizaines de formations sur Canva.
Développer votre créativité
Cette formation, en plus de vous montrer des exemples de visuels que vous pouvez créer pour vos réseaux sociaux, vous montre l'état d'esprit à adopter pour aiguiser votre créativité. Plus d'excuse, il sera désormais facile pour vous de faire VOS incroyable visuels ! Votre créativité sera mise à l'épreuve. Prêt ? À vous de jouer !
Ma promesse
Je vais vous accompagner tout au long de ce cours. Si vous avez une quelconque question concernant la formation, vous pouvez toujours poser une question ou m'envoyer un message directement. Bon cours !
You can view and review the lecture materials indefinitely, like an on-demand channel.
Definitely! If you have an internet connection, courses on Udemy are available on any device at any time. If you don't have an internet connection, some instructors also let their students download course lectures. That's up to the instructor though, so make sure you get on their good side!
Be the first to add a review.
Please,
login
to leave a review
CANVA Marketing pour Réseaux Sociaux & Entreprise