Canva 3.0 masterclass create your graphic documents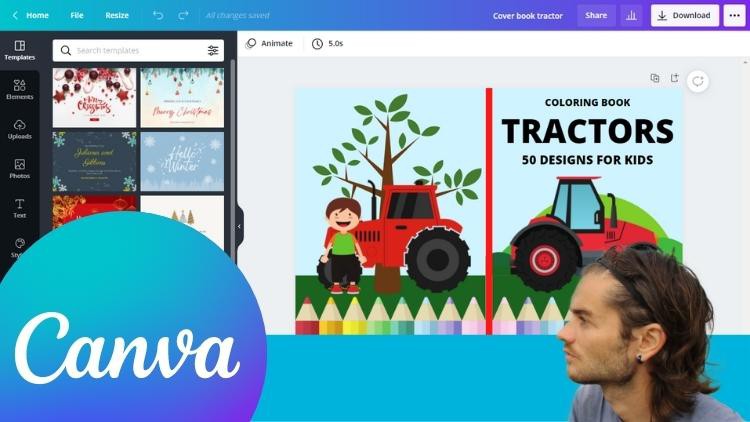 Canva online tool
Canva is a powerful online tool for bringing any idea to life in a graphic document. The goal of Canva is to give an accessible tool to all people who want to create graphic documents without needing advanced knowledge. Although the tool is accessible, it is equipped with many features and it is not easy to master it at first. The major advantage of Canva is its click and drop system that allows you to create designs without needing to use complex tools. The other big advantage is the set of templates it offers. It is thus possible to use a predefined template on all graphic documents, and to adjust it with its content. Canva also offers a huge library of icons and images. Canva saves all designs online, so you can manage all of your designs on the platform.
Why to use Canva
– You need to create graphic designs for your channel or business but you don't know how to go about it ?
– You want to quickly create social media posts ?
– You don't want to hire people to create your graphic documents ?
– You don't have time to learn several advanced design software for your designs ?
– You want to create montages quickly?
– You want to stock your graphic documents online?
Free version and pro version
It is possible to work with the free version which offers a lot of possibilities. With this version you can do most of your work. The pro version, at an affordable price, gives you access to additional features. In this course, we will cover all the free version and the major features of the paid version.
Training course
In this course, I'll show you how to master Canva perfectly. For this I will introduce you all the features and the working process to create a design. Master design graphics with this online tool. I will explain to you how to use each tool one by one to create your graphic documents from scratch, but also using predefined templates. You will see everything in detail, from adding text to managing pages, adding shapes to aligning and distributing those shapes in the document, importing images, frames etc. In the last part we will see concrete examples of graphic design on various themes.
You can view and review the lecture materials indefinitely, like an on-demand channel.
Definitely! If you have an internet connection, courses on Udemy are available on any device at any time. If you don't have an internet connection, some instructors also let their students download course lectures. That's up to the instructor though, so make sure you get on their good side!
Be the first to add a review.
Please,
login
to leave a review
Canva 3.0 masterclass create your graphic documents