APPRENEZ À APPRENDRE VITE ET BIEN : méthode TOP CHRONO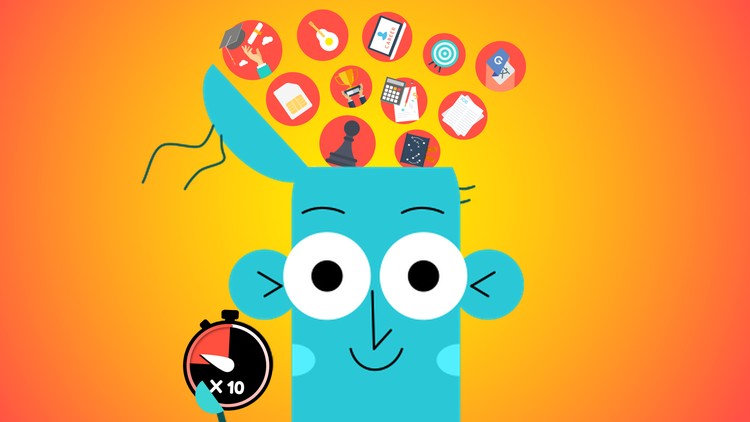 *****
ATTENTION !
NOUVELLE VERSION DE CETTE FORMATION  DISPONIBLE :   
Comment APPRENDRE tout 10x plus VITE «MÉTHODE TOP CHRONO V.2»
*****
"Cette formation est une des plus complètes que j'ai trouvé sur les techniques d'apprentissage. En plus il y a des techniques de concentration comme la méditation. Si vous voulez vous former ou si vous êtes étudiant, vous pouvez l'acheter les yeux fermés."
Emmanuel Boudier – Apprenant Udemy

"C'est facile à première vue de ne pas être emballé par la présentation, mais l'ensemble du cours couvre rapidement tous les sujets les plus importants et accomplit très bien les objectifs fixés. Possiblement la formation la plus complète sur le sujet sur Udemy. Ayant déjà lu tous les ouvrages les plus pertinents et jeté au moins un coup d'oeil à
toutes les autres formations similaires sur le site, je pense pouvoir parler en connaissance de cause."
Francis Blondin – Apprenant Udemy

Avez-vous déjà rêvé de pouvoir comme dans le film Matrix télécharger de nouvelles compétences directement dans votre cerveau ? 
Avez-vous rêvé de pouvoir apprendre tout ce que vous voulez rapidement et facilement ? De réussir vos études ? De parler une langue étrangère ? De trouver un meilleur job ? 
Basée sur des recherches scientifiques et des principes fondés la méthode « TOP CHRONO » vous permettra de déconstruire toutes compétences, de booster votre mémoire, de vous organiser mieux et de vous débarrasser de vos barrières. 
Avec la méthode « TOP CHRONO » vous pourrez aller au bout de tous vos projets d'apprentissage, rien ne vous résistera ! Réalisez vos rêves, devenez la personne que vous souhaitez vraiment être.
Rappelez-vous : rien n'est impossible à qui sait apprendre !
You can view and review the lecture materials indefinitely, like an on-demand channel.
Definitely! If you have an internet connection, courses on Udemy are available on any device at any time. If you don't have an internet connection, some instructors also let their students download course lectures. That's up to the instructor though, so make sure you get on their good side!
Be the first to add a review.
Please,
login
to leave a review
APPRENEZ À APPRENDRE VITE ET BIEN : méthode TOP CHRONO